Nuestra Misión
Established in 2004, the Cambio Center leads research and outreach on Latines, immigrant integration, and communities undergoing demographic change. To understand processes of integration and support changing communities, the Center leads interdisciplinary research that spans fields as diverse as psychology, community development, economics, health, education, human development and family studies, history, language acquisition, public policy and law.
To ensure that research is meaningful to communities and their leaders, Cambio Center outreach efforts bring together academics, students, and practitioners to discuss findings and exchange best practices. The Cambio Center advances this work both at the university and throughout the region by organizing the annual Cambio de Colores conference, the premiere conference on immigrant integration in new destination areas, and through its network of Faculty and Student Fellows.

The Cambio Center was founded to:
Contribute to the University's mandate to provide education and enhance the welfare of all residents of the state of Missouri in the context of the dramatic demographic changes that are resulting in dynamic, multicultural, and diverse societies.
Develop a premier source of knowledge, scholarship, outreach, and education, to respond to the effects of globalization in local communities, both rural and urban, following the land-grant model.
Support sustained research to understand the immigration process in Missouri in particular and the Midwest in general.
Provide knowledge and best practices to facilitate a smooth integration of economically vulnerable newcomers to Missouri and the Midwest, and prepare all citizens for a diverse society.
Provide an institutional scholarly base to extend the Cambio de Colores initiative beyond the scope of the annual conferences, sustaining immigration-related research and outreach work of the university
International Mission: With Latin America as a major trading partner, and a major source of the Latino labor force in our state, understanding the international nature of the immigration process, the cultures and institutions (economic and social) of Latin America, and their experiences with immigration, can contribute to our knowledge. These collaborations will provide opportunities to better educate our faculty, students, and communities. We aim to develop the conditions for comparative studies of current push and pull immigration processes in the Americas, in collaboration with Latin American universities.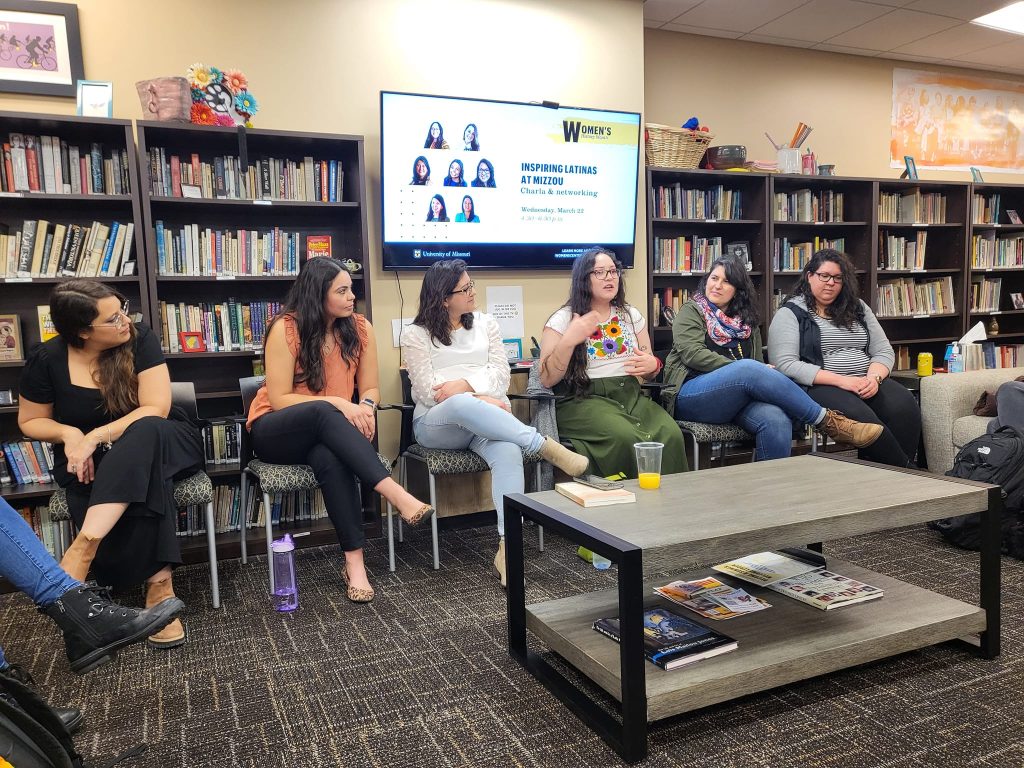 Graduate Student panelist at Inspiring Latinas at Mizzou event in 2023.
Cambio Student Fellows at 20th Cambio de Colores conference.
Presentation about shifting demographics in the United States by faculty fellow, Onésimo (Ness) Sandoval.